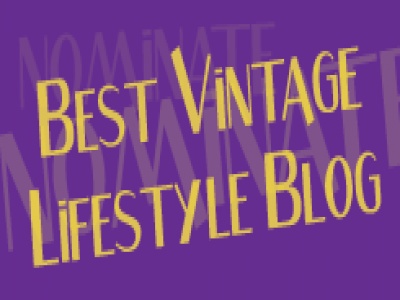 2014 Winners Interview - Best Vintage Style Blogger: Norton of Morton
Please allow me to introduce myself. My name is G.M. Norton and I am the chief protagonist of NortonOfMorton.com
Norton of Morton is an analogue periodical in a digital age. It follows my quest to lead a gentlemanly existence where I celebrate chivalry, good manners and decency in my own inimitable style. With a new periodical posting every Saturday at 4 o'clock, you can set your pocket watch by it.
Residing in the North West of England, I aspire to better myself in the ways of old while showing the world that old-fashioned doesn't mean outdated.
What do you have planned for your business/yourself in the next year?
Exciting plans are afoot! I'm hoping to give the electronic periodical a little makeover, a change of furnishings if you will. I'm always having various business ideas popping into my head so perhaps one day I'll get around to do something about them. Either way, 2015 promises to be a vintage year!
What are your favourite vintage events?
Although I don't get to it as often as I would like, I adore the Stockport Vintage Village. It's a monthly vintage fair on the second Sunday of every month inside a glorious Victorian market hall. There's always lots of trinkets to tempt me.
Why did you decide to enter the NVAs?
I remember it like it was only yesterday. It was a lovely afternoon, replete with blue sky, beaming sun, buzzing insects and what not. An afternoon that seemed to call to one to be out in the open with God's air playing on one's face and something cool in a glass at one's side.
Suddenly, a mysterious dark-haired beauty approached me. Draining my glass (which I was jolly miffed out, I must say) she proceeded to start blathering on about the NVAs and her mission to thwart a ruthless organisation intent on smuggling vintage secrets out of England to the enemy.
As I turned to hand the lady a refilled glass of the strong stuff (I had decided that she seemed in greater need than I), she was gone. Vanished. The only trace she left behind was a hand-written scrap of paper with the words 'Write a blog and win the NVAs'.
How did you feel when you won?
I was tickled pink, over the moon AND grinning like a Cheshire cat that had commandeered the milk float. It was such a wonderful feeling to see my little corner of the internet crowned the best in all the land. Especially coming against some magnificent blogs such as Retro Chick.
What was the most positive thing about entering the NVAs?
I suppose the most positive thing was the support from Norton of Morton's esteemed readership. They really rallied round to vote for my periodical.
What would you say to other people who are thinking about entering in 2015?
Definitely enter! Especially if a mysterious dark-haired beauty encourages you to do so. But just keep an eye on your drink!
What business tip/quote would you give to anyone starting out in the vintage industry?
Read Norton of Morton every Saturday at 4 o'clock, obviously.
How has being a NVA Winner affected your business/yourself?
My readership figures doubled which I found quite staggering really. After winning the award, I was also contacted by the BBC to be quoted on a story about cravats so The National Vintage Awards has really helped to raise my profile as a respected voice.
"...Where the vintage elite meet..."
© 2014 - 2021 The National Vintage Awards UK