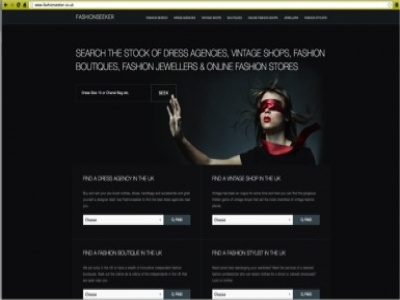 Headline Sponsor For The National Vintage Awards 2014: Fashionseeker
The National Vintage Awards 2014 were sponsored by Fashionseeker, the definitive guide for shoppers enabling them to search stock for the latest bargains from all over the UK, whether it be from a vintage store, a dress agency, fashion jewellers or an independent boutique.
Fashionseeker caters for independent fashion boutiques, dress agencies, vintage fashion shops, fashion jewellers and fashion stylists. It allows these fashion businesses to create a profile, upload stock and get found in one central location. Fashionseeker can be used as your web presence, shop or virtual business card.
After attending the awards ceremony on Thursday 18th June 2014 at Fazeley Studios Birmingham. Fashionseeker's team blogged:
"Wow, what a great night we had, meeting so many fantastic people, swooning over all the vintage gowns, dresses and costumes and being treated to some amazing musical talents before, during and after the awards presentation. The wine and champagne was flowing and if you were lucky enough, you could book yourself in to enjoy a true vintage inspired High Tea set with eclairs and delicious sponge cakes! We were thrilled to see some of our members nominated for an award..."
"Vintage enthusiasts had come from far and wide to celebrate for this yearly event, the best talent within this niche industry and it truly was a pleasure to be a part of it.."
"...Where the vintage elite meet..."
© 2014 - 2021 The National Vintage Awards UK