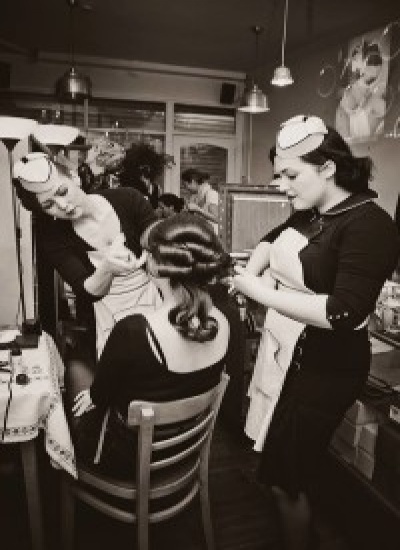 Nominee Interview: An Era Of Experience, Best Vintage Event Service Or Supplier
An Era of Experience is a travelling vintage events company. The team is a collaboration of 4 independent business owners with a passion for vintage. We have combined our talents & passions to create bespoke vintage themed parties perfect for sophisticated Hen parties, special birthday celebrations or corporate entertaining.
When we began there was nothing like Era available so we wanted to combined our skills to create an authentic interactive vintage experience which can be enjoyed by all ages. The Era Experience can be themed to our clients favourite bygone time so for instance for a 1920's/30's theme the craft workshop will teach guests how to create a flapper headband, the beauty parlour will teach the skills to create the perfect 1920s look and the china chosen for the Afternoon Tea party will come from our Art Deco collection. New for 2014 we have teamed up with The Violet Hour Cocktail bar to add an additional element to our parties, an Era themed cocktail or a full mixology masterclass.
Team Era is: Silver Sixpence in her Shoe (Craft Workshops), Bethany Jane Davies (The Vintage Beauty parlour), For the love of vintage (China Hire), And The Dish ran away with The Spoon (Bakery)
2. What category are you nominated in?
Vintage Events Supplier
3. What made you enter the NVA's this year?
Being one of the first events suppliers to offer a vintage experience and having had two very busy successful years in business and overwhelming positive client feedback, we felt now was the time to enter the awards.
4. How did you first hear about the NVA's?
We heard about the National Vintage Awards via Facebook when it launched last year.
5. Do you have a message for potential voters?
We are incredibly passionate about creating authentic vintage events with interactive workshops that provide our guests with a fun experience suitable for all ages. We are an award wining team dedicated to sharing our passion for vintage to create bespoke events in which our guests can enjoy an afternoon in their favourite bygone Era.
6. Anything else you would like to add?
An Era of Experience is an Award wining team — Bethany Jane Davies is two time winner of Vintage Manchester Award for Best Vintage Hair & Make-Up ( 2012 & 2013) and For the love of vintage was the Vintage Manchester 2012 winner of Best Events Supplier.
Facebook: http://www.facebook.com/AnEraofExperience
Weblink: http://www.aneraofexperience.com/
Twitter: @era_vintage
"...Where the vintage elite meet..."
© 2014 - 2021 The National Vintage Awards UK