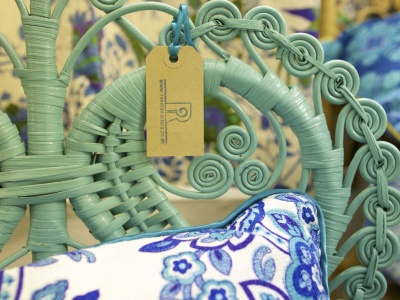 Nominee Interview: Ann Wilson Revel Interiors, Best Online Vintage Shop- Homeware
My name is Ann. I live in Bath with my husband, Dave, my children; Iris aged 3 and Monty aged 5 and Travis my cat (aged 14!). Revel Interiors was born from my love of creating beautiful and interesting spaces using vintage and handcrafted home accessories and furnishings. To compliment the eclectic array of vintage finds available to buy, I also make 'new' soft furnishings and accessories using genuine vintage fabrics. This is something I 'revel in', hence the name. I also offer a bespoke service so if anyone wants a custom made lampshade or cushion, for example, I'm your woman. Customers can choose from my gorgeous collection of vintage fabric or let me loose on their own!
2. What category are you nominated in?
Best Online Vintage Shop — Homeware
3. What made you enter the NVAs this year?
I've entered these awards to gain more recognition and publicity. Revel Interiors is a relatively new business. I only launched the website in January of this year and I need all the help I can get. Oh and its not often I get to wear a posh frock, so I'm hoping to get invited to the awards ceremony!
4. How did you first hear about the NVAs?
I think it was via Twitter. I couldn't say exactly where as I'm often found wandering the internet. It's so easy to get sidetracked... isn't it?!
5. Do you have a message for your potential voters?
I love what I'm doing and very proud of what I've achieved. I want to make my business a huge success and a vote from you will not only spur me on but will hopefully lead to some fantastic publicity for Revel Interiors. Thanks in advance!
6. Anything else you'd like to add?
Good luck to all the nominees! We all deserve to do well!
Facebook page: https://www.facebook.com/revelinteriors
Weblink: http://www.revelinteriors.co.uk
Twitter: https://twitter.com/RevelInteriors
"...Where the vintage elite meet..."
© 2014 - 2021 The National Vintage Awards UK