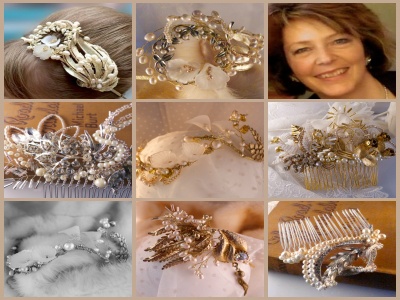 Nominee Interview: Annette Jone/tilly Minx, Best Vintage Artist
Give me a girl who loves vintage and my eyes light up! I love to help others achieve their vision...I love to involve the 'vintage lover' in the design process in order to reflect their personality, essence and meaning in a perfect bridal or special occasion accessory.
My clients recently said:
"I'm not creative at all but somehow Annette extracted all the info needed from me to make me the most perfect pieces".
"Annette had loads of beautiful ideas and inspiration, when I had no idea what I wanted!"
"Annette's originality, individuality, inspiration and craftsmanship was a huge surprise during the design and creation process. She kept me involved at all stages and the end product was even more beautiful than the photographs. I was so impressed that I commissioned a brooch for my mother — it's absolutely beautiful"
This is what makes me tick! Helping others is what makes my business so enjoyable, it's their ideas that enable me to make such beautiful pieces. My clients are attracted to vintage elements that excite and inspire them. Each of my designs is inspired by an original vintage piece of jewellery. Forgotten gems, grandma's favourite brooch, a gorgeous and unexpected find at the local antique fair can lead to the most creative pieces. My clients may already have this special piece tucked away in a draw or it may jump out at them from my box of pre-loved treasures. However this gem is found, or sourced it adds a story to the newborn jewel, a unique piece of design and a gorgeous accessory that the wearer can treasure as a beautiful heirloom and keep sake to share with future generations.
Being part of the design process and knowing that the idea has sprung from their choices I know that the wearer will feel beautiful, glamorous, amazing, and dazzle with confidence when they wear their special Tilly-Minx design.
So to me it's more than a pretty accessory, it's a journey from a once loved vintage jewel, with the influences and glamour of the past, combined with a fashion conscious twist. It's up cycling at its best, being reinvented, reloved and a joy to wear and share. The journey from the past to the present and to the future, all in one amazing design.
My strapline is 'Gorgeous accessories as special as you' and I believe they are only special because of the wearer's personality shining through.
My clients deserve the best! I want to help each person ensure that their special pieces reflect everything they want to say for the very special moments in their lives.
2. What category are you nominated in?
I've entered the 'Best Vintage Artist' Category as my business is based on reinvention, creativity, craftsmanship and artistry. Breathing new life into once loved original pieces of jewellery requires an artist's interpretation, understanding of form and ability to create aesthetically pleasing results from different materials, periods and styles. One of my most recent clients said:
"Annette has a natural talent to create jaw dropping pieces of art in jewellery, along with a kind heart and outstanding service."
3. What made you enter the NVAs this year?
I attended the NVA Award Ceremony last year with a fellow vintage enthusiast and nominee. I was inspired by the event as a celebration of all things vintage. With so many attendees dressed in vintage style there was a brilliant sense of occasion! The nominees, finalists and winners all benefitted from the experience and it inspired me to enter.
5. Do you have a message for your potential voters?
Please, take a look at my gallery: http://www.tilly-minxvintage.co.uk/gallery/ if the pieces I create make you smile or provoke an emotion of nostalgia, joy, desire and imagination then I have succeeded in my mission! If this is the case, please, vote, your feedback is invaluable and inspires me to continue to create!
6. Anything else you'd like to add?
I love doing what I do, this award would be the icing on the cake or should I say the 'luster on the pearl' for me!
FB page: https://facebook.com/tillyminxvintage
Weblink: http://www.tilly-minxvintage.co.uk Gallery Link: http://www.tilly-minxvintage.co.uk/gallery/
Twitter: https://twitter.com/TillyMinxVint
"...Where the vintage elite meet..."
© 2014 - 2021 The National Vintage Awards UK