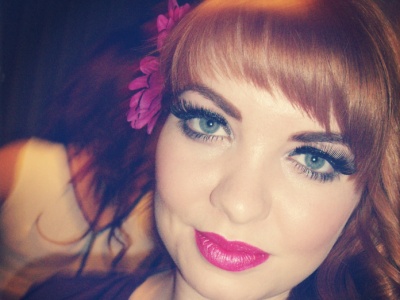 Nominee Interview: Appleton Pinup Girl, Best Vintage Blog
I am a UK based blogger, I started my blog at the end of December 2012. I wanted to enter the New Year with a blog, a place to share my love of all things fabulous.
I wanted to use this space to share my cupcakes, I bake from home, a small home business I call Appleton Bakery. I am also a huge fan of burlesque and wanted to share this passion and since then I have shared a whole host of interviews with top international stars such as Immodesty Blaize, Catherine D'Lish, Perle Noire, Bettsie Bon Bon, Gwendoline Lamour, Khandie Khisses and many more. My first burlesque interview was with the lovely Lena Mae and ever since the interviews have proved to be a big hit, even being shared on Facebook by the legendary Dita Von Teese and top model Bernie Dexter.
I also wanted to use this blog to share my love of pin up style and 40€s and 50€s fashion. I am a curvy girl myself and thought this would be a great way to introduce people to companies they may not have come across, my own fashion choices, accessories etc. I have managed to interview some great people in this area including Cameron Silver, vintage fashion expert. He is the owner of Decades store and the man behind many A-List Hollywood Celebs red carpet looks. Lydia Rose Bright celebrity fashion designer, owner of Bella Sorella store and TOWIE star. Laura Byrnes, designer, professional photographer and owner of Pinup Girl Clothing. Betty Hobcraft from Betty Blues Loungerie. She is the designer and director of UK produced luxury lounge wear company. Not to mention some fabulous pin up models including Cherry Dollface and Ivory Lovelust.
I really wanted my blog to be versatile, I have many things I enjoy and wanted to share with the world and hope to continue bringing new things for all my followers.
I hope that you enjoy my blog, my reviews, interviews, style tips, guest stars, and everything else it has to offer. I have a huge passion for my blog; it gives me many sleepless nights but so much enjoyment.
2. What category are you nominated in?
Best Vintage Blog
3. What made you enter the NVAs this year?
Since starting my blog I have shared my passion for vintage style, entertainment and culture and have built a following who share the same loves in life. I decided to enter as I have heard great things about the awards and would like to be recognised for the work I do.
4. How did you first hear about the NVAs?
Though my friend Bexi Owen last years winner of singer category
5. Do you have a message for your potential voters?
This year I have become a shortlisted finalist for the National UK Blog Awards 2014 for 'Most Innovative Blog'. It would mean the world to me to have a chance at winning the National Vintage Awards this year. Alot of hard work and dedication has been put into the blog to bring the audience interviews with top burlesque performers, pin up models and fashion designers. I have also presented burlesque show reviews, make up and beauty knowledge, product reviews and more. Branching out this year I have set up a online burlesque boutique and started producing burlesque and cabaret shows under the name Appleton Productions. I would love to be an award winning blogger who is recognised for my passion for vintage style and entertainment.
6. Anything else you'd like to add?
Everyone is a winner to get this far, please help me to get further by voting for me!
FB page: https://www.facebook.com/AppletonPugWeblink: http://www.appletonpinupgirl.com/Twitter: https://twitter.com/AppletonPUG
"...Where the vintage elite meet..."
© 2014 - 2021 The National Vintage Awards UK