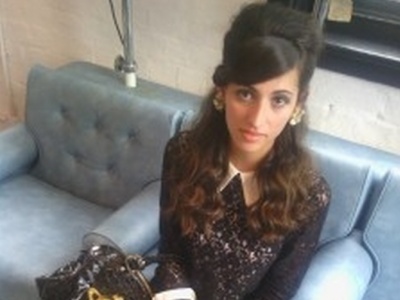 Nominee Interview: The Little Vintage Beauty Parlour, Best Vintage/lifestyle Blog
My name is Chris (well actually its Christina Marie Newland) working on behalf of The Little Vintage Beauty Parlour. I am an New Yorker turned anglo-phile having moved over to good old Robin Hood Country (Nottingham) many moons ago for study and then love. I have a penchant for sophisticated, old school 'Hollywood' (naturally) glamour, fashion, mid-century furniture, a cheeky designer handbag or two and English Breakfast Tea.
By trade I'm a semi-professional vintage/retro model and full time film critic (working for publications such as Bright Lights Film, Film Matters Magazine and Luna Luna Magazine.) I regularly publish to my ever increasing blog.
I was lucky enough to become involved with Lulu (the owner of The Little Vintage Beauty Parlour) when we worked together on a vintage fashion shoot 2 years ago, having worked on various projects with her since then when she said she was looking for a social media expert I jumper at the chance.
What better than to combine my love of well, basically talking about vintage styles and fashion and putting my actual skills to work....BINGO...The Little Vintage Beauty Parlour Blogspot was formed...
2. What category are you nominated in?
Best Vintage/Lifestyle Blog
3. How did you first hear about the NVAs?
Through The Little Vintage Beauty Parlour Team
4. Do you have a message for potential voters?
Working with The Little Vintage Beauty Parlour is a family. We are exactly as we say on the tin "Little" but with big ideas, just to be nominated is kinda a big deal but to WIN — wow, it'd make an American girl very happy!
Weblink http://littlevintagebeautyparlour.blogspot.co.uk
Twitter http://www.twitter.com/LVBPNotts
"...Where the vintage elite meet..."
© 2014 - 2021 The National Vintage Awards UK