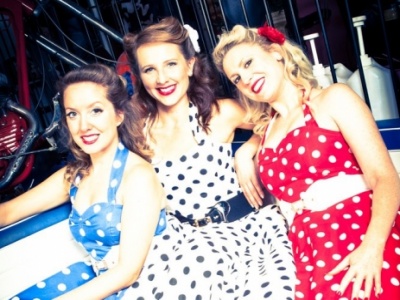 Nominee Interview: The Polka Dots, Best Musical Performer
We are a quirky all-singing, all-dancing three-part harmony group taking classic songs from the 1940s and '50s, and mixing up more modern songs to a bespoke swing twist! We started in 2009 and have enjoyed entertaining crowds at weddings, birthdays, anniversaries in addition to a number of festivals (Twinwood, Goodwood) nationwide since then!
2. What category are you nominated in?
Best Musical Performer
3. What made you enter the NVAs this year? We were approached by the National Vintage Awards and it looks like a fantastic event to be involved in — both for the chance to perform for a studio full of vintage lovers, right to the opportunity for spreading the Dotty love to those that may not have heard of us until now!
4. How did you first hear about the NVAs this year?
As we were approached by the NVAs, I looked into it and couldn't pass up the chance of entering!
5. Do you have a message for your potential voters?
Yes, we hope you enjoy our take on the original swing trio — if you like what we do, please support with vote! :)
Facebook page: https://www.facebook.com/pages/The-Polka-Dots/131260763604414?fref=ts
Weblink: http://www.thepolkadots.co.uk/
Twitter: https://twitter.com/thepolkadots
"...Where the vintage elite meet..."
© 2014 - 2021 The National Vintage Awards UK