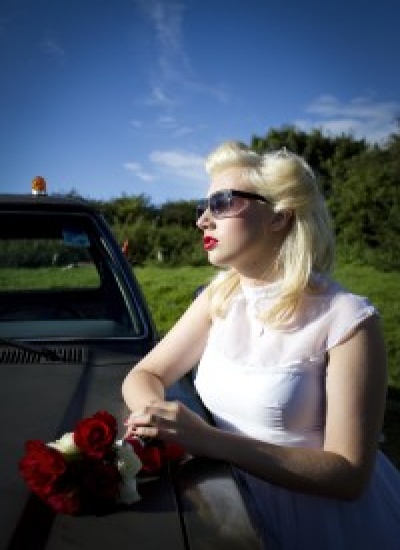 Nominee Interview: Samantha Nash, Vintage Beauty & Grooming Award
Hi everyone I would like to welcome you to Vintage Tinsel, I specialise in wedding and vintage hair. I set up Vintage Tinsel 4yrs in October after losing my job in a salon I worked in. It was very daunting but thanks to family friends and clients we have gone from strength to strength. The vintage side of things happened about 2 yrs ago after I was asked to create vintage hair for a photographer doing vintage boudoir shoots and everything went mad.
2. What category are you nominated in?
I decided the best category to enter would be the Vintage Beauty and Grooming award as that seemed to cover everything I do involving doing vintage hair.
3. What made you enter the NVAs this year?
Last year I got the chance to do an amazing shoot in Florida to celebrate National woman's month and we had to create some thing as a tribute Rosie the Riveter, I loved it it was such fun and met some awesome people, hence why I decided to enter The National Vintage Awards, as a kinda of thank you to everyone for being part of the last 4yrs.
5. Do you have a message for your potential voters?
As a message to all my voters, nearly all of you I know very well, some of you I have met along the way and we have become good friends, some I have had the privilege of being involved in the most important day in your life and all those future brides, clients, friends I want to thank you so much letting me be there and for being so supportive threw all my roller coaster rides, I ask this one last little thing of you please vote for me xxx we can do this !!!!!
6. Anything else you'd like to add?
I love to create a vintage hair style whether it be a replica of an original 40's 50's style or wedding hair with a vintage twist. I do hair for a local drama group who produce usually period plays so the challenge is to replicate the look so a lot of research goes into that and then the challenge of creating spectacular vintage wedding hair for a lovely bride is what I thrive on.
Facebook: https://www.facebook.com/vintagetinsel
Weblink: http://www.tinseltiara.co.uk/
Twitter: https://twitter.com/Saminash25
"...Where the vintage elite meet..."
© 2014 - 2021 The National Vintage Awards UK