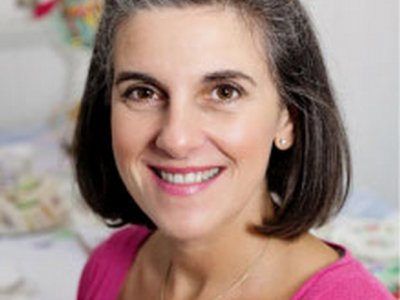 Nominee Interview: Vintage Afternoon Teas, Best Vintage Event Service Or Supplier
I'm Gwyneth Brock, business owner at Vintage Afternoon Teas. Mum to three beautiful children Daisy, Ed and Bill, some of whom are nearly grown up and flying the nest, and also live with my wonderful husband Graeme.
I used to have a "proper job" but I stopped work 5 years ago and then somehow ended up baking and delivering afternoon teas and building up my collection of vintage china and tablelinens.
I've worn vintage clothes since I was a teenager (they were called second-hand then) and have a huge fondness for vintage homewares from all centuries/decades so it's pretty fabulous to be working in this area now.
The business started in 2010 and I've since been back to college for a year to train as a Pastry Chef (I was a good homebaker but always good to brush up and learn some new skills) and we're now fairly flat out with private vintage tea parties, secret vintage tea parties at my home and other venues, pop-up vintage tearooms, a regular market stall at Altrincham's Vintage Market and a collaboration with another local business has created Vintage Crafternoon Teas, which combines sewing and afternoon tea, with other joint-working in place with nearby businesses like dancers and make-up artists to add to the Crafternoon Tea parties which work especially well for hen parties.
We also hire out our collection of vintage crockery and we have a special collection of midcentury china for hire too.
We have some lovely customers and most of our business comes through word of mouth recommendation. I've built a lovely team of helpers who come in and help create the events and the food with me, they're all fabulous and I take every opportunity I can to say that because I couldn't do any of it without them.
My mum Carys and my other half Graeme are absolutely fundamental to the business too, not to mention Daisy who waitresses for me, it's definitely a family affair, with a lot of support from friends.
We were absolutely bowled over to win Vintage Manchester "Best Vintage Event Supplier" in 2013, given the tough competition in that category, it was the icing on the cake in what was a very busy year! It's massively hard work (ask anyone in events or catering) but I do love it.
What category are you nominated in?
We're nominated in Best Vintage Events Supplier category.of the Year
What made you enter the NVAs this year?
We had the courage to enter the awards this year on the back of winning the Vintage Manchester award last year. We get positive feedback all the time, which is wonderful, but I think we hadn't quite realised how much love there was out there for us, it's pretty overwhelming and a nice feeling to think we've helped lots of people with their special occasions.
How did you first hear about the NVAs?
I heard about the NVAs online and I'd seen some other local suppliers attend the awards last year and it looked like a great event.
Do you have a message for your potential voters?
We'd love people to vote for us; we're a northwest-based business who really do go the extra mile to create a special vintage tea party for our customers. We recognise that every party is a unique occasion and a one-off and we offer a really personal, friendly service, fabulous food and beautiful vintage china and tableware, no gimmicks.
FB page: facebook.com/vintageafternoonteas
Twitter: http://www.twitter.com/VintageTs
Weblink: http://www.vintageafternoonteas.co.uk
"...Where the vintage elite meet..."
© 2014 - 2021 The National Vintage Awards UK